INTUITIVE PROGRAMMING OF ROBOT SYSTEMS
CHALLENGE
Modern and flexible industrial production requieres a quick and easy operation of robot systems. When several robots or several robot components need to operate cooperatively, the effort for pro- gramming the system becomes considerable, given the difficulty of efficiently sinchronizing all the working components.
‍
INNOVATION
With this new programming method autonomous robot systems consisting of several robots or robot components can be programmed efficiently and intuitively.
The movements of the robot components are shown on an interactive diagramm, providing the user with a complete overview of the process.
This programming method is based on the playback-andteach-in-approach. Combined with the manual programming, the user can edit the movements using a graphic interface (GUI)
The user can edit the diagrams by copy, paste and delete. It is also possible to easily synchronize multiple robot components by defining synchronization intervals and synchronization points within the diagrams;
A simulation of the execution allows for the quick test of the compiled programm.
‍
COMMERCIAL OPPORTUNITIES
The invention allows for a drastic improvement of the industrial production. In particular the inventi- on provides the following advantages:
The costs and the effort for programming a robot system are reduced, making possible the implementation of large robots systems also for small and middle industrial facilities.
A fast instruction phase of the workers is sufficient for an efficient operation of the program.
No special competences in computer programming are needed to succesfully use the program- ming interface.
‍
DEVELOPMENT STATUS
A prototypical implementation for pick-and-place operations (programming and editing) has been succesfully developed.
‍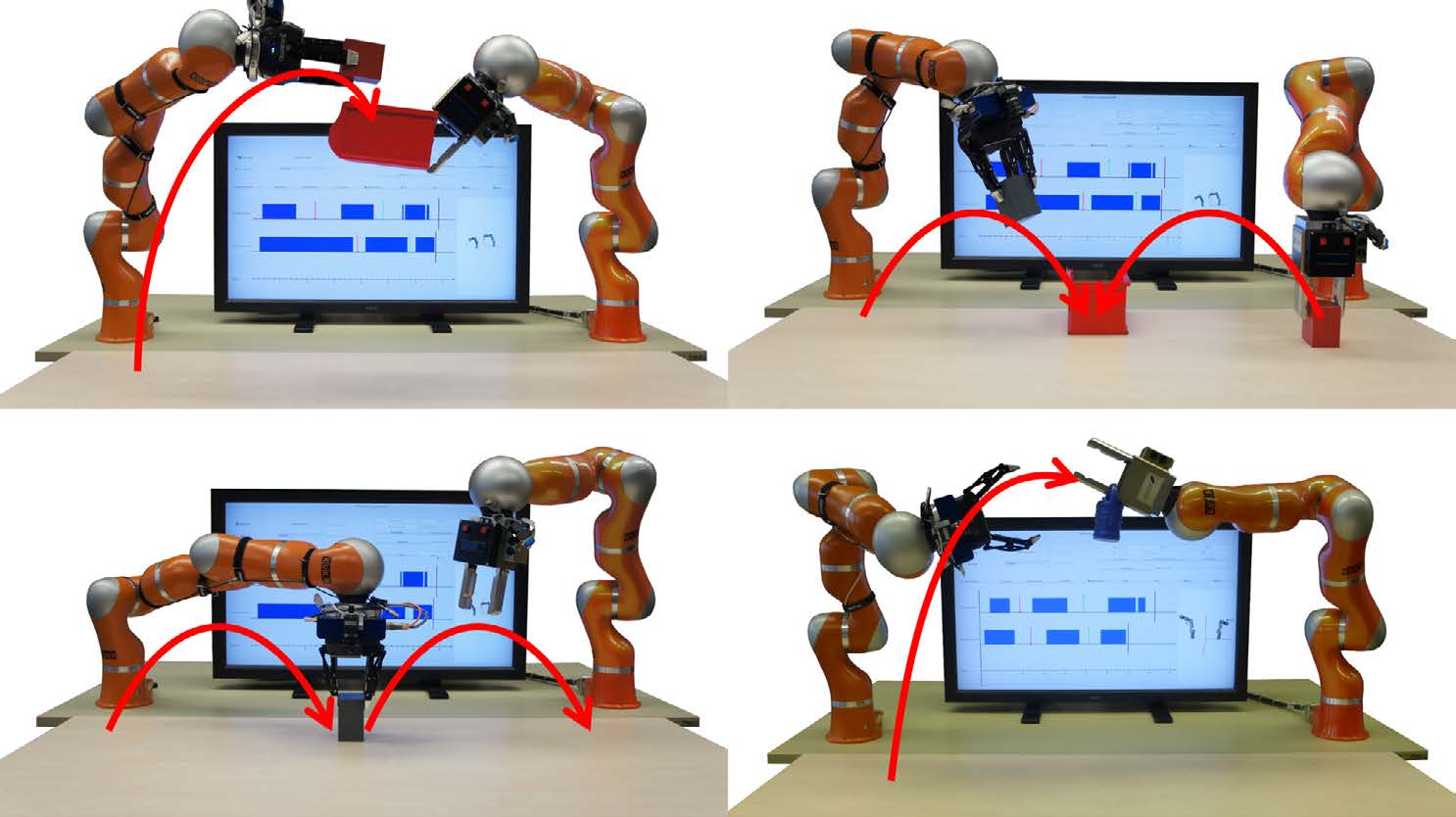 ‍
Exemplary execution: (up left) a robot puts an object in a box, which is hold by the second robot; (up right) two robots put one after the other an object in a box; (below left) the first robot puts an object in the middle, immediately after the second robot pushes the object further; (below right) a robot holds an object and the second robots picks it up. A computer monitor shows the Gannt-diagramms. Picture from (1).
‍
REFERENCES
(1) "Editing and synchronizing multi-robot playback programms", 47th International Symposium on Robotics (ISR), 2016.
(2) DE 10 2015 116 086 A1; WO 2017/050895 A1.